Cannabis compliance training
Cannabis compliance training
Cannabis Community College created the 5 Course Essentials Certification specifically for job seekers and new employees of the cannabis industry.  The cannabis industry is the fastest growing industry in the world and has the most opportunity for quick advancement.  It is very common for an entry level person to work up to management in their first year.  However, this kind of opportunity also means that there is a lot of competition.  A single job post typically receives several hundred applicants.  If you don't have previous cannabis work experience, the best way to compete with the other applicants is to prove that you have taken the initiative to already learn all the state required compliance, regulations and standard operating procedure.  We even teach you trade skills so that you can comfortably walk into a facility and know what you are doing.  Employers know that with this training you are invested in your cannabis career.  We even teach you how to write your resume, cover letter and ace your interview!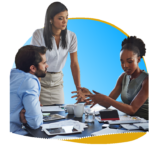 Cannabis Compliance training for your employees
Let Cannabis Community College assist in your training protocol.  With our New Employee Essentials – 5 Course Bundle, your new employees will learn the following:
State required compliance, regulations, and standard operating procedures
Essential knowledge of every aspect of the cannabis industry, including trade skills in those departments
How to be a productive employee and what to do to grow their career with your company.
We even offer tailor made courses specifically designed with your SOP's.
Never fail an audit for not having proof of state required education.  Most states even require the education to be taught annually.  With our courses, your employees will have access to retake the courses and get certified each year.  They will even have access to intermediate and expert level courses.  Inquire about our bulk rates for employers here
The Cannabis Community College platform is growing internationally.  We are in the process of translating our training courses into several Latin and European languages.  We are also allowing industry experts from around the world to turn their expertise into revenue by sharing their knowledge on our platform in the form of a course that we will promote and sell to our network.  It only takes a few hours to put together your curriculum and record your class, but the revenue can be endless.
Educators have the choice to record their training or provide it live.  Recorded training provides residual income with very little upfront work.  Live courses or Q&As are a great way to generate new students and loyal buyers.  
Cannabis compliance certifications